May 16, 2022       /       Unchained Daily       /       Laura Shin
---
Daily Bits✍️✍️✍️
Malicious ads on crypto data sites ask users to connect their wallets.
Azuki founder makes a tough confession: "I've f*cked up".
Justin Sun says he still believes in algo stablecoins and USDD in light of UST failure.
South Korean President's plan to raise crypto tax thresholds hits a roadblock
---
Today in Crypto Adoption…
Nigeria adopts new crypto regulation on the issuance, exchange and custody of digital assets.
Japan's brokerage Nomura offers Bitcoin derivatives to clients in Asia.
Chainsmokers will launch NFTs to share royalties.
---
The $$$ Corner…
Goldman Sachs and Barclays invest $70 million in crypto trading platform Elwood Technologies.
---
What Do You Meme?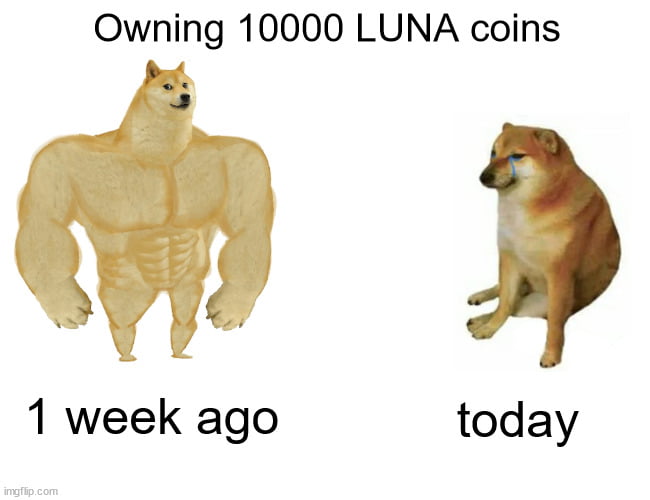 ---
What's Poppin'?
Where Does Terra Go From Here? Do Kwon and CZ Spar
After the collapse of the Terra ecosystem, which wiped $60 billion dollars out of the crypto market, Do Kwon, the founder and CEO of TerraForm Labs, published a proposal to revive the blockchain called "Terra Ecosystem Revival Plan." But not everyone was enamored by his idea.
Kwon wants to fork the blockchain and distribute 1 billion tokens among LUNA and UST holders. The plan would be to allocate 40% to LUNA holders before the depegging event, 40% to holders of UST "at the time of the new network upgrade," 10% to LUNA holders "at the final moment of the chain halt" and, lastly, 10% to a Community Pool to "fund future development".
"Terra needs a community to continue to grow and make its blockspace valuable again – the only way to do this is to make sure that token holders before the attack commenced stick around to keep providing value," Kwon said.
According to Forbes, the price of $LUNA rocketed over 1,000% in the hours after Do Kwon's plan was released, as investors and traders regained hope in the ecosystem. However, the surge did not last very long and LUNA's market cap is now sitting at around $1.5 billion, compared to more than $40 billion last month.
Binance's CEO Changpeng Zhao, most commonly known as CZ, questioned Do Kwon's proposal of forking the Terra blockchain to keep it alive. "This won't work," CZ said on  Twitter. CZ, echoing many others, also asked where the BTC held by the Luna Foundation Guard went.
CZ went deeper on Twitter later to express his thoughts and feelings about the Terra chaos: "Minting, forking, don't create value. Buying back, burning does." In his Twitter thread, he asked for more transparency from the Terra team, requesting to see on-chain transactions of the funds, which could be used to buy back tokens and reward UST holders.
Elliptic, a blockchain analytics company, posted an analysis to shed some light on the bitcoin held by LFG. According to their post, 52,000 bitcoins were moved into Gemini and the remaining 28,000 were moved into Binance. However, Tom Robinson, co-founder and chief scientist of Elliptic, emphasized to CoinDesk that beyond that, "We can't really see how it's been used. It might have been sold, it might be being stored on the exchanges, it might have been withdrawn again, and might be an unhosted wallet."
---
Recommended Reads
Blockchain Association's Jake Chervinsky on algorithmic stablecoins & the UST collapse.
Aldrin's Barry Fried on mastering the Curve Wars.
Leo Glisic from Ozzo on Ethereum's PoS centralization problem
---
On The Pod…
Did Someone Deliberately Attack Terra/Luna to Kick off a Death Spiral?
Jon Wu, head of growth at Aztec Network, recaps a historically chaotic week in the Terra ecosystem that saw $UST depeg, Anchor depositors flee, and $LUNA fall 99%. Show highlights:
how $UST, $LUNA, Luna Foundation Guard (LFG), and Anchor Protocol are supposed to work
why Jon compares the Terra blockchain with VISA, LFG with the Fed, and Do Kwon with Jerome Powell
how a previous $UST de-peg foreshadowed this week's dystopian price action
how a bitcoin short seemed to have kickstarted $UST's depeg and why Jon thinks it was a deliberate attack
why Luna Foundation Guard originally purchased Bitcoin – and how that plan backfired and made the Terra death spiral even more violent
why $UST had such low liquidity this week – making it more susceptible to a bank run
what Jon's predictions are for $UST and $LUNA going forward
what were the reasons behind Terra halting
why Jon does not think this will be the end of algorithmic stablecoins
why Jon thinks this should not affect ETH directly, even though there is a high amount of staked ETH in the Terra ecosystem
---
Book Update
My book, The Cryptopians: Idealism, Greed, Lies, and the Making of the First Big Cryptocurrency Craze, which is all about Ethereum and the 2017 ICO mania, is now available!
You can purchase it here: http://bit.ly/cryptopians